0
Riding the Wild Winter Winds from Marin to Bodega Bay
After a month of rainy weekends, I jumped at the chance when my girlfriend India called me up and said "let's ride!" The day's two-wheel menu of choice was a tour of the North Bay by way of Greenbrae, out to the infinite serpentine two-lane Highway 1, north to Point Reyes, Tomales Bay, and Bodega Bay, then home through Occidental and Sebastopol. This 76 mile, 4-5-hour eclectic ride is chock full of hills, deep forests and coastal magic, intermingled with sweeping turns and tight twisties.
We rode our two sport bikes south on 101 from my house in Novato to meet Vicky on her silver V-Strom at the local Peet's Coffee House in the Bon Air Shopping Center in Greenbrae. This is a popular meet-up spot, even when organizing a large group ride, because there's lots of parking, two gas stations on the corner, a drugstore and grocery store just in case your forgot something, and strong coffee to get you off to an energetic start.
CHILLIN' IN THE SPRING AIR
Despite lingering damp roads and 20 mph winds, we stuck with our original plan to head to the coast to satisfy our craving for some hearty authentic clam chowder at The Tides Restaurant in Bodega Bay. Even though it was the first day of April, and sunny, the winter's chill was still in the air. Like most Bay Area riders, I've learned to layer up for the occasion, with my favorite turquoise North Face micro fleece under my cozy warm Frank Thomas winter jacket. I was the only one out of the three, who didn't have heated gear, so I pulled out my secret weapon, Grabber Hand Warmers and tucked them into my jacket liner to bump up the warm factor.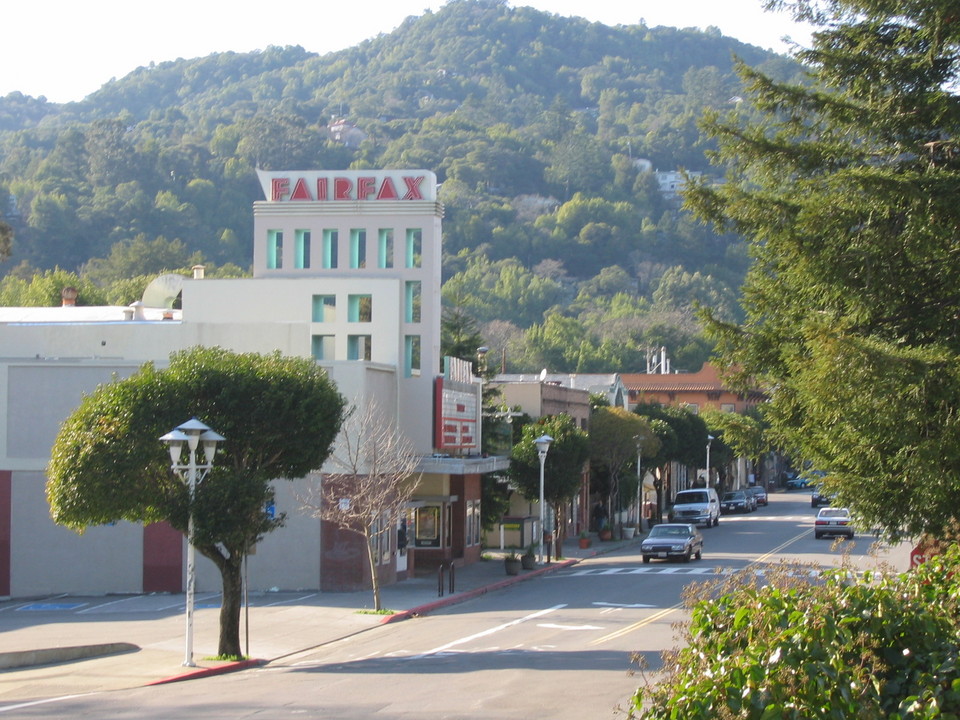 Heading due west from Greenbrae, we rode Sir Francis Drake Boulevard through San Anselmo and into the Bohemian town of Fairfax, which still retains its hippie past - a very sweet nostalgic town that just makes you want to grow your hair long and wear love beads! If you ride this route in reverse, I recommend taking a break at Woody's Ice Cream store. It's a fun way to end the afternoon, indulging on a lavender rose ice cream cone while the distinct scent of patchouli oil lingers in the air.
Once past Fairfax, the road opened up and we were riding the rolling hills of West Marin. Spring is one of my favorite times to ride, when the vibrant green hills and valleys are strewn with colorful wildflowers against a crystal blue sky. A stunning vision that makes enduring the cooler riding conditions worth it as, in just a month or so, the summer drought will soon turn the hills to a "golden" brown.
BUMP AND WIND
Just over 11 miles from our starting point we pass through the San Geronimo Valley and through a dusky grove of ancient redwood trees in Samuel P. Taylor State Park. This is where the road gets a bit bumpy, so be sure to keep your toes pressed to your pegs as you take in the sights and musty smells of this brief majestic forest with a babbling brook running along beside you. I was thankful to have my polarized sunglasses to filter out the flickering sunbeams of light passing through the trees as we weaved in and out of the dense canopy of giant redwoods.
Another 5 miles down the road at the crossroads of Sir Francis Drake Blvd and Shoreline Highway (Highway 1) is the small town of Olema, an unincorporated community of Marin County and the gateway to the Point Reyes National Seashore, inspiring the late 60's song "Hippie from Olema" by the Young Bloods. Today, this pint-sized town is still a great place to hang out, offering the rustic solitude of the Point Reyes Seashore Lodge as a great weekend getaway.
Heading north from Olema on Highway 1 we pass through the very popular town of Point Reyes Station, located at the innermost portion of the long and slender Tomales Bay. It's also one of the only towns you will find on the coastal highway with a biker-owned gas station. The Greenbridge Gas & Auto Service Station recently installed a 24-hour card service on their four pumps so that riders no longer get stranded after the store (and bathroom) closes at 7 PM.
In Point Reyes Station you'll notice that motorcyclists and bicyclists alike hang out at the Bovine Bakery or Toby's Feed Barn across the street. My haunt of choice is the Cowgirl Creamery. I like to check out their vast array of smooth and creamy signature artisan organic cheeses. You can find this little delicious discovery just off the main road on 4th Street.
TOMALES NOT TAMALES
As we wound along the Tomales Bay and into Marshall, my mouth began to uncontrollably water as the tantalizing scent of fresh barbecued local oysters drifted by. There's the Tomales Bay Oyster Company, Hog Island Oyster Company and, my personal favorite, The Marshall Store, where you can sit at a rustic wooden bar with a view of Tomales Bay as you dine on an assortment of flavorful crustaceans.
The final town before leaving Tomales Bay is the town of Tomales, another popular hangout for local motorcyclists. Interestingly, the cruiser folks tend to keep to the west side of the road, making their pit stop the William Tell House, while the other motorcyclists tend to stay on the east side, at the Tomales Deli. I recommend stopping here take a quick break and to chat with other local motorcyclists and bicyclists, no matter which side of the road you're on.
Passing through Tomales, we rode north for 5 more miles over scenic rolling green hills dotted with cows, noticing noble hawks perched on the telephone wires in search of their next meal. We made a necessary left at the T junction to continue on Highway 1, briefly passing through Valley Ford. Our three bikes followed procession in a swooping up and down motion with the hills and valleys in the undulating road until we reached Bodega Bay, where we stopped for lunch.
RIDE-TO-EAT
We pull into the famous Inn at the Tides, where most tourists end up, and for good reason: it has the best view of the the pelicans, sea lions, cormorants, seagulls, and other native birds who frolick for your dining entertainment. You can either dine in or out or choose picnic supplies from their fantastic seafood deli and gift shop. Because of the chill, we unanimously decide to dine in and order three steaming bowls of thick chunky chowder. Vicky added an order for us to share: fresh succulent crab
that comes with a juicy lemon and a small bowl filled with amber-colored melted butter.
Thoroughly reinfoced, we continued to head north, leaving the small fishing village of Bodega Bay, probably best known as the set for the 1961 Alfred Hitchcock's film, The Birds, with its treeless hills and eerie foggy atmosphere. But for me, the attraction is the 10 miles of road meandering along the nooks and crannies of the coastal highway. There's great lookout point at
Salmon Point, which also has beach access and restrooms.
Just before turning east onto Coleman Valley Road we stopped at Coleman's point on the western coast to soak up the impressive panoramic view. The wind was wild on the bluff, which prompted Vicky to shout over to me to point my VFR into the wind instead of sidelong, as I was doing. I thought she was smoking something until I felt myself on the hefty crimson chassis being seriously pushed by the massive gust of air flow.
BACK OVER HILL AND DALE
Coleman Valley Road is a rugged one-lane road that rises suddenly, offering us a fantastic view of the Pacific Ocean. The 11 mile stretch of tight turns dropped us into the nostalgic little lumber town of Occidental with two popular roadside eateries, both with great family style dining and minestrone soup. You can't go wrong with either Negri's or the historic Union Hotel, which I prefer for its homestyle cooking and a cozy back patio to enjoy in warmer temperatures.
Taking a right, we descended south on Bohemian Highway towards Freestone, where I always insist on making my traditional stop at the Wild Flour Bread for the best bread and scones this side of the equator. Jumping back in the saddle again, we took a left to head 6 miles east on Highway 12 into Sebastopol before taking a right onto Gravenstein Highway and back to Highway 101 where I reluctantly parted ways with my friends as I turned south toward San Francisco for 20 miles to Novato.
MAP
View Larger Map